Board of Directors & Staff
2016/2017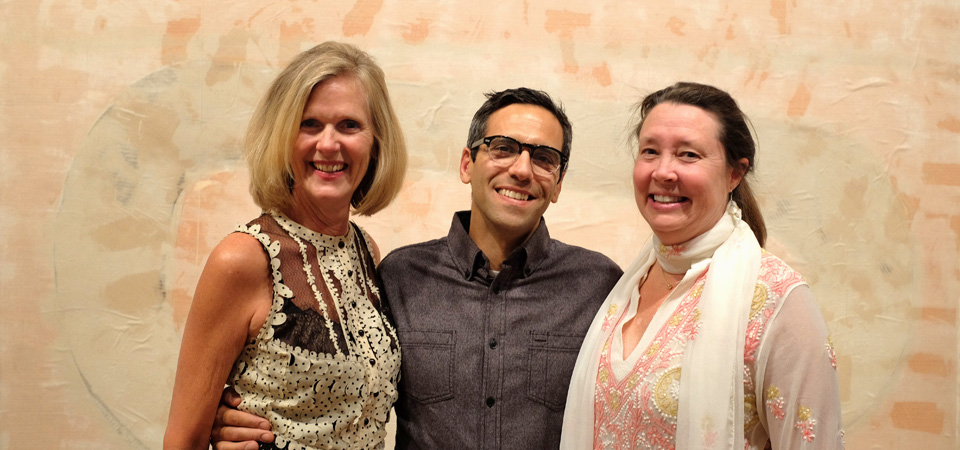 1708 Gallery's Board of Directors consists of a majority of professional artists. The dedication of this active Board has been a key element in the long-term success of 1708 Gallery. The Board of Directors and an active executive committee lead the governance process. 1708 Gallery is dedicated to developing best practices in governance. The Board participates in strategic planning, development initiatives, and oversight of the programmatic activities of 1708 Gallery, in partnership with the professional staff.
Board of Directors
John Henry Blatter

President

Lucy B. Meade

Immediate Past President

Julie Weissend

President Elect

Caroline Wright

Secretary

Molly H. Dodge

Treasurer
Elissa Armstrong
Hamilton Glass
Kathryn Henry-Choisser
Susan Jamieson
Michael Lease
Matt Lively
Haley McLaren
Sarah Rebekah Byrd Mizer
Valerie Molnar
Paul Monroe
Maureen Neal
Amie Oliver
Pamela Kiecker Royall
Matt Spahr
Kendra Wadsworth
Emeritus Council
Rob Acosta-Lewis
Pam Anderson Sutherland
Susanne Arnold
Jay Barrows
Lora Beldon
Brad Birchett
Ruth Bolduan
Sally Bowring
Mark Bryant
Tom Chenoweth
Sara Clark
Stephen Clark
Don Crow
Janet DeCover
Jan Delaney
Sally Dunn
Christopher English
Susan Ferrell
Pam Fox
Travis Fullerton
Joan Gaustad
William Gravitt
Chris Gregson
Suzanne Hall
John Haddad
Karen Kincaid
Sandy Kjerulf
Cyndi Massad
Robert McAdams, Jr.
James Miller
Cindy Neuschwander, in memorium
Michael Pierce
Louis Poole
Terrie Powers
Celia Rafalko
Elaine Rogers
Fiona Ross
Alyssa Salomon
Diego Sanchez
Laura Leigh Savage
Anne Savedge
Mary Scurlock
Joe Seipel
Michelle Smith
Bob Steele
Russell W. Sterling II
Gordon Stettinius
Georgianne Stinnett
Elizabeth B. Stutts
Javier Tapia
Michele Walter
Jennifer Van Winkle
David Whaley
Susann Whittier
Willie Anne Wright
Staff
Emily Smith
Executive Director
Prior to coming to 1708, Emily was the Curatorial Fellow in Modern and Contemporary Art at the Virginia Museum of Fine Arts where she worked from 2007 until 2010. Projects at VMFA include the exhibitions, The Ludwig and Rosy Fischer Collection of German Expressionist Art; Matisse, Picasso, and Modern Art in Paris; and Labor and Leisure: Works by African American Artists in the VMFA Permanent Collections. Prior to VMFA, she was Director of Exhibitions at Piedmont Arts in Martinsville, Virginia (2004-2007) and the Assistant Director at Second Street Gallery, Charlottesville, Virginia (2003-2004). Smith was an adjunct faculty member in art history at Patrick Henry Community College, Martinsville, VA and was a critic for a Charlottesville, Virginia weekly paper. Smith received a MA in Art History from the University of Virginia in 2002.
Erin Willett
Gallery Coordinator & Operations Manager
Erin was born and raised in Roanoke, Virginia. She completed her BFA from Virginia Commonwealth University in 2011 in Painting & Printmaking with a minor in Sculpture. Her work has been exhibited in several solo and group exhibitions in Richmond. Prior to her current position, she served as the Project Manager for 1708 Gallery's InLight Richmond from 2012 to 2015. She also held the position of Gallery Assistant of Reynolds Gallery, in Richmond, Virginia.