Nikko Dennis + Earl Mack: SMILE…
October 19 – November 29, 2020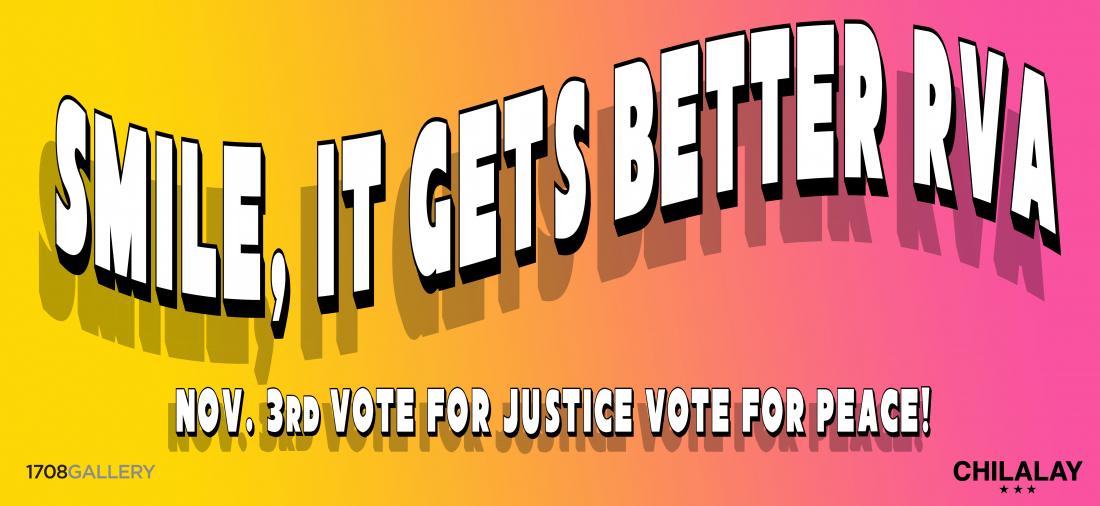 1708 Gallery is excited to share SMILE..., a billboard project by Earl Mack and Nikko Dennis. They are co-founders of the collaborative design and apparel outfit Chilalay. The billboard, located at the intersection of West Jackson Street and Chamberlayne Avenue, emphasizes the necessity of civic participation in building a positive future for Richmond, Virginia.
Chilalay is known for their progressive and insightful usage of graphics and text. Their design and apparel collections are often based around central themes that promote notions of strength through collectivity, Black history and culture, and community support. As a Black-owned business operating in the historic Jackson Ward neighborhood, Chilalay has particular relevance, as Jackson Ward was once the most financially successful Black neighborhood in the country and is still a hub of Black culture and community.
Mack and Dennis explain their approach to this project: "'Smile, it gets better' is a saying that Chilalay lives by. We know in life things are going to happen that are out of our control. But what we can control is our mindset on how we are going to deal with these situations. Storms don't last forever, so if you have enough grit to stand your ground through adversity things will get better. With this billboard, we want the city to know that things will get better but we have to do our part and smile and put positive energy back into the community. We need people to vote and speak up for justice and speak up for peace."
SMILE... exudes an optimism often hard to find amidst the current vitriolic political campaigns. To propose that the social and political future can be better, SMILE... insinuates that through collective positivity and voting, something better does await. Their exuberant and deliberate design points to an alternative approach to overcoming political obstacles – one that is relaxed yet confident about what it takes to make change.
Chilalay is a streetwear brand based in Richmond, Virginia. Chilalay means to 'chill and relax;' their motto is, "if you can fix it, fix it–if not, chilalay!" The brand was created by two VCU graduates, Earl Mack and Nikko Dennis. Mack majored in Fine Arts at VCU and is the Creative Director at Chilalay. When he is not creating designs for Chilalay, he works as a freelance graphic designer and street art muralist. Dennis graduated with a B.A. in Business Administration at VCU. Chilalay is his full-time job.